Unlike the Cycle time breakdown summary, the Cycle time breakdown graph displays the percentage of time spent on each workflow step for the selected period.
It also displays the average cycle time for a given period. Depending on your preference, you can view this data by sprint or by week.
Psst! Be careful not to confuse this graph with the one that has a similar name available in the Technical Axis since they do not use the same data (different sources for the two axes).
Since Axify imports your project management structure, the steps presented in the graph will be the same as those used in your project at the source.
Psst! You can edit your steps' name at the source to add emojis if you'd like! These will then be imported to Axify and used in the various charts.
Example of use
For the following graph, the period displayed corresponds to the last three months, and the display mode is by sprint. Overall, we can see that the average cycle time is three days. However, we can also see that this duration was once close to ten days.
Since this graph is interactive, hovering over it with your mouse will display more details for a given week.
For example, for this one sprint, we can see that 83.38% of the time (10 days 23 hours in this case) was spent at the To deploy stage.
Considering the colour-coding, we can see a change in time allocation over the following sprints. In the case of this example, it is a reduction in time spent at the deployment stage (reduced to 1 day 17 hours for that sprint), leading to an overall decrease in cycle time in just a few sprints, even though the To deploy stage still represents about 40% of the cycle time.
The goal here is to have a shorter cycle time (see red dotted line), yes, but more importantly, to have a cycle time as stable as possible.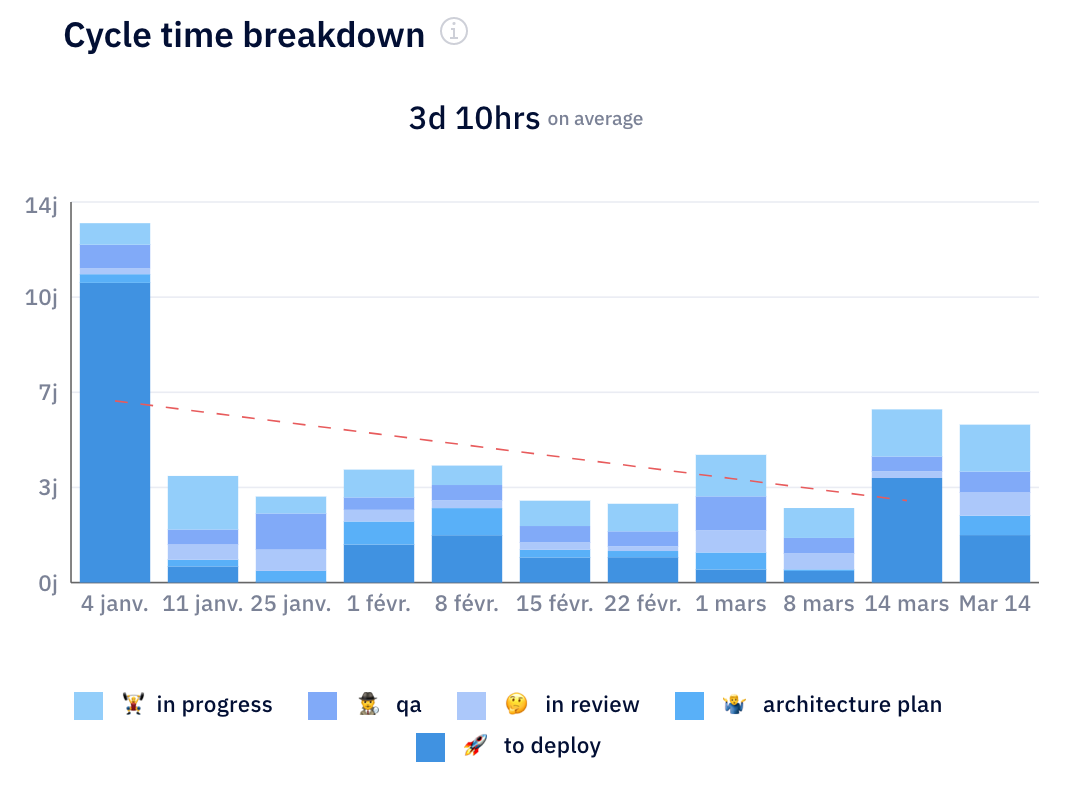 This may reflect a change in work methodology to increase collaboration or improve the validation process.
To learn more about the variation indicator and its calculation, check out this article!